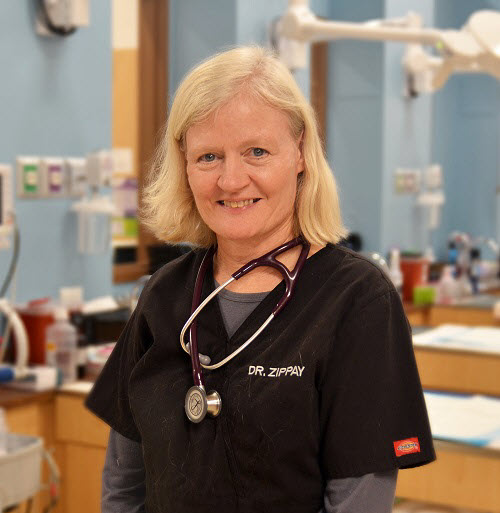 Dr. Kathy Zippay
Veterinarian
Dr. Zippay grew up on a big farm in Charleroi, Pennsylavania. This setting started her love for animals. She obtained a Bachelor of Science degree from Penn State University with a minor in physiology and religious studies. She graduated with distinguished honors from Purdue University School of Veterinary Medicine in 1990 where she received a high academic achievement award, a IVMA scholarship leadership award and a compassionate care award. Dr. Zippay is married to her best friend from high school and has two sons. All of her animal family members are rescues. She has a three-legged Shiba Inu (Ryokan), three cats (Peggy Sue, Skittles, Oreo), a Cuban Anole (Esmeralda) and a tortoise(Shelly). Their family values are "Love God. Love others. Speak truth. Be kind. Work hard ". She carries these values to her veterinary career. In her free time, she enjoys long walks with her dog, studying the Bible and spending time with her family.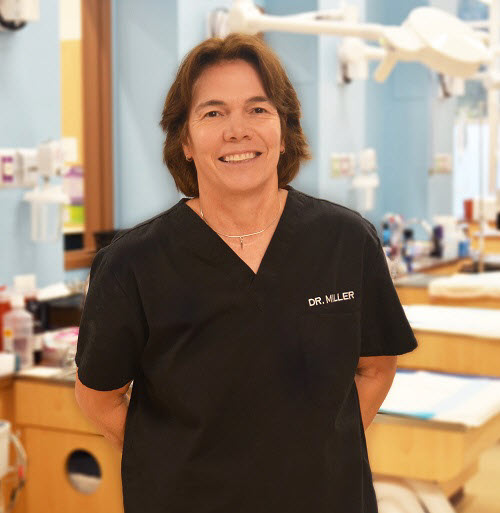 Dr. Lisa M. Miller
Veterinarian
Dr. Miller grew up and still resides in the Hershey area. She graduated from the University of Pennsylvania School of Veterinary Medicine in 1991. The first 17 years of her career, she spent in a primarily small animal general practice, but simultaneously was able to have the experience of working 10 of those years in the field of large animal medicine. She was the veterinarian for the Pennsylvania State Police Horses for six years. She has been exclusively practicing emergency medicine since 2008, enjoying not only the fast pace of emergency medicine, but also all the challenging cases emergency work may bring. When not working, Dr. Miller enjoys volunteering with the Ronald McDonald House Charities both at the Ronald McDonald House and the Ronald McDonald House Family Room at the Children's Hospital in Hershey. She also enjoys spending as much time as possible with her family, especially her wife and daughter.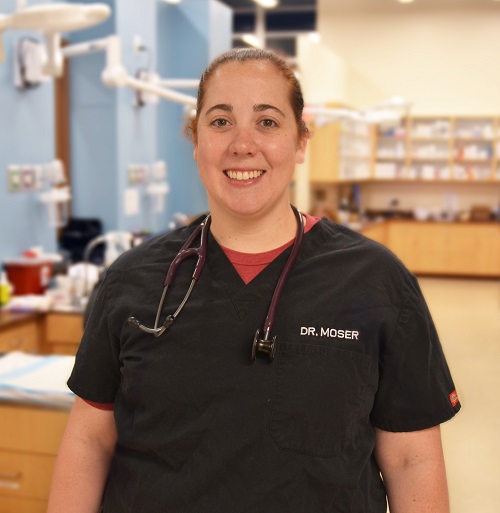 Dr. Sarah Moser
Veterinarian
Dr. Moser grew up in South Central Pennsylvania in the Carlisle area where she now resides with her dogs, Megan and Mattie. After attending the University of Pennsylvania School of Veterinary Medicine, she moved to central Ohio and worked as a mixed animal veterinarian, treating dogs, cats, horses, small ruminants and cows. Since moving back to Pennsylvania, she has worked at a few local small animal clinics and now practices emergency medicine exclusively. Dr. Moser is very close with her family and feels very lucky to see her parents, sisters, nephews and niece often. In her free time, she enjoys taking her dogs to the park and home renovation projects.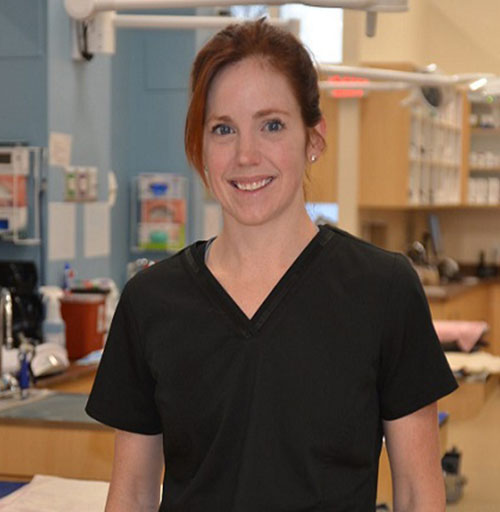 Dr. Samantha Slenbaker
Veterinarian
Dr. Slenbaker grew up in Maryland and now resides in the Annville area with her husband and fur babies, Cruz, Bentley and Marsh. She graduated from Virginia Maryland Regional College of Veterinary Medicine in 2016 where she met her husband. She worked in a local small animal clinic following graduation, then a mixed animal practice prior to switching exclusively to emergency medicine where she treated dogs, cats, small ruminants, and cows. In her free time, Dr. Slenbaker enjoys spending time with friends & family, running, lifting, and painting.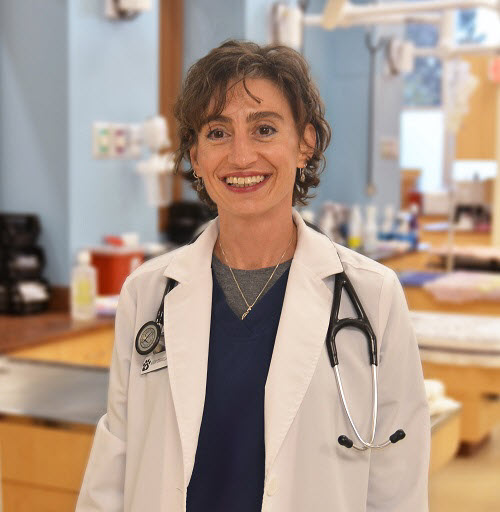 Dr. Maria Ciaravella-Schwalb
Veterinarian
Dr. Ciaravella (Dr. C.) grew up in Ellicott City, Maryland where she first discovered her love of animals. Her family encouraged this love. She earned a Bachelor of Arts in Biology from Western Maryland College (now McDaniel College). Dr. Ciaravella graduated Cum Laude from Auburn University College of Veterinary Medicine in 2010. In her sophomore year she participated in a mission trip to Honduras to provide much needed veterinary care to livestock, working, & companion animals. Dr. C. is an active member of the American Veterinary Medical Association, The Veterinary Emergency & Critical Care Society, & the American Association of Feline Practitioners. Other professional interests include Internal Medicine, Diagnostic work-ups of complex cases, Environmental Enrichment for companion animals, Animal Behavior, Shelter Medicine, Trap Neuter Return programs, & Veterinary Forensic Medicine to aid animal cruelty investigators in prosecuting offenders. In addition to working at Shores, Dr. C. also works at a General Practice in Carlisle. She & her husband live in Carlisle & share their home with 2 amazing cats, Ziva & McGee. In her spare time, Dr. C. enjoys cooking, reading murder mysteries, listening to a wide variety of music, traveling with her husband, art, creative writing, & spending quality time with family & friends for which she feels blessed to have in her life.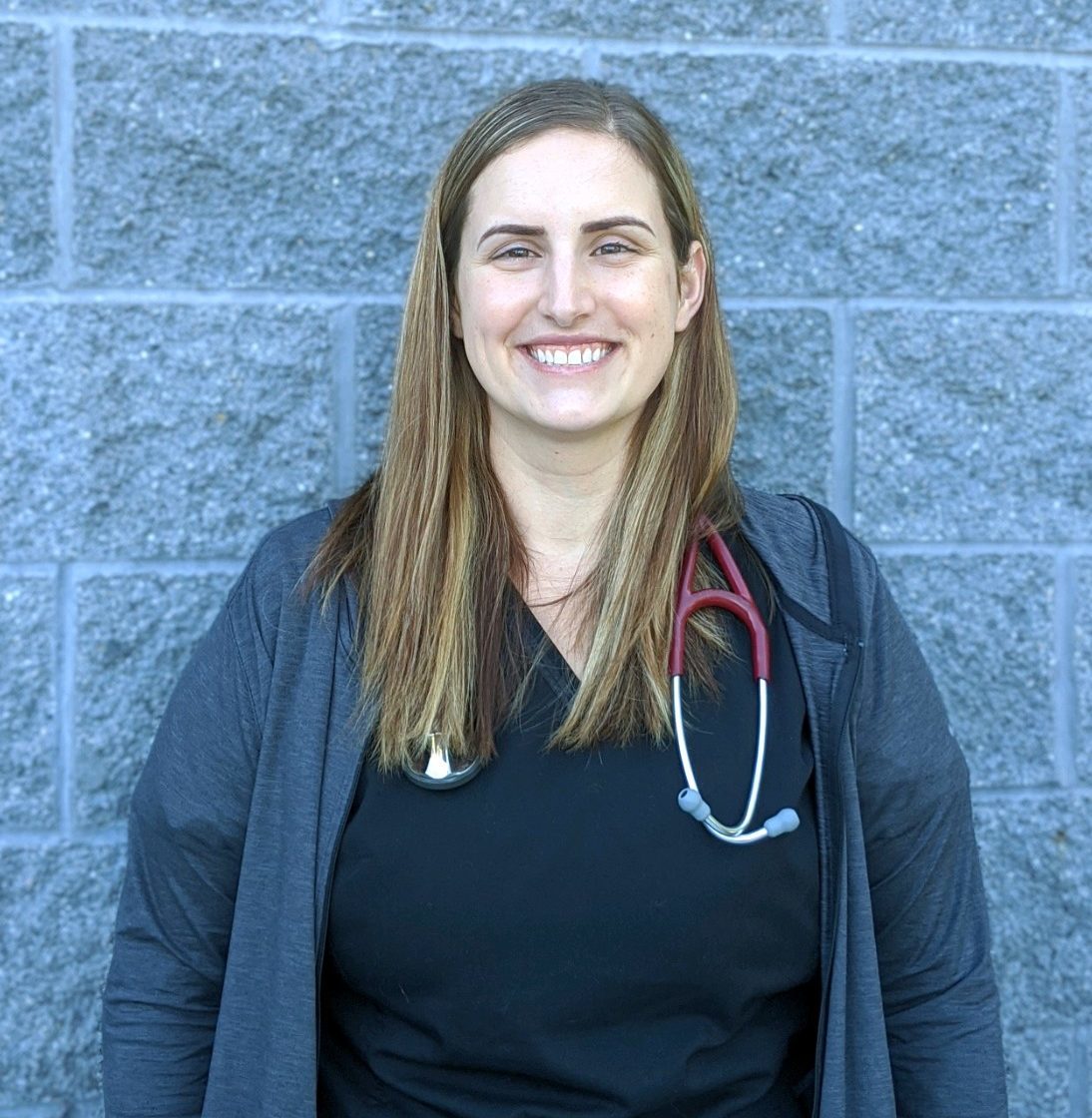 Dr. Lupole
Veterinarian
Dr. Lupole grew up in Schuylkill County PA and now resides in Hershey with her 4 dogs (2 chihuahuas, a dachshund and a lab), husband and daughter. She graduated from Colorado State University College of Veterinary Medicine, after completing her Master of Science degree. She received the Gentle Doctor Award at graduation, given to the graduate who exhibits the qualities of the Gentle Doctor—someone who reflects concern, affection, love and the significance of life for all God's creatures great and small. She has worked in small animal general practice while doing relief ER work before transitioning to ER full time. She is loving the fast pace of ER and the great team at SHORES. In her free time, she enjoys home projects, wrangling her toddler and outdoor activities.